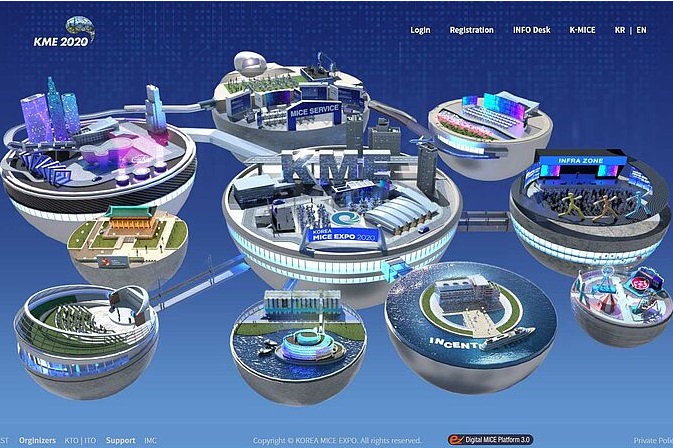 From Physical to Virtual: Trends for International Events in South Korea and China
The COVID-19 pandemic has had a significant impact on international conferences in South Korea and in China, and has led to increased focus on and investment in digital meeting technology.
During the pandemic, the majority of meetings and conferences have been virtual or hybrid – combining some level of in-person meeting with non-face-to-face sessions.
This shift to virtual has helped to accelerate the digital transformation in the MICE industry (meetings, incentives, conferences, and exhibitions) as venues and facilities look at how they can adjust to changes in conference trends.
The Korean Culture and Tourism Institute conducted a survey of government, academic and industry experts (132 respondents) to learn their views on the move to virtual events. The view that online will replace in-person had a rating of 3.70 points on a 5-point scale measurement where 1 is "will not be replaced" and 5 is "will be almost entirely replaced". The question put to respondents was: To what extent do you expect the online form to replace the existing face-to-face and offline form when holding international conferences in the future? Responses were as follows:
1 : (not much will be replaced): 0.8
2 : 12.9
3 : 4.4
4 : 59.8
5 : (the majority will be replaced): 12.1
The overall view is that nearly 72% of live international conferences in South Korea will be replaced by virtual events.
Digital innovation in exhibition industry
Meanwhile, a similar survey from the China Convention and Economic Research Committee (253 respondents) found that 41% of organizations believe that, regardless of the type of meeting, the digital transformation is now the trend, and 84% say that awareness of the importance of digital transformation is much more important than before the pandemic.
These survey findings show that it's inevitable that there will be significant changes in the way technology is used in the MICE industry.
Meeting technologies used in the MICE industry are classified into 21 categories, including 5 base technologies used in combination with other technologies and 16 event-specific technologies used for international events in South Korea.
Base technologies are those that are integral for digital meetings including: artificial intelligence, the Internet of Things (IoT), cloud computing, big data and wearable technology. They are often used in combination with other technologies, such as AI-based chatbots, guide robots, wearable beacons,  cloud-based event management software, IoT-based smart displays, big data-based event management software for participant analysis.
The 16 event-specific categories include AR/VR, holograms, live streaming, radiofrequency identification (RFID), social media, location-based services/GPS, beacon technologies, mobile apps, event management system software, drones, general chatbots, guiding robots, projection mapping,  facial recognition software, smart display, and near-field communication.
In China, digital technologies considered to be integral to the virtual or hybrid meeting space include: Precise search, intelligent recommendations software, live streaming, content management, virtual exhibition capabilities, reservation consultation, customer profiling, instant communication, intent to order solutions, electronic business cards and customer service tools.
Across the meetings industry in both South Korea and China, there is broad expectation that virtual is here to stay and that this trend is driving greater investment in and commitment to digital transformation.
In the coming 12 to 18 months, it will be worth charting how these trends impact the industry as well as delegate expectations.
Hwajeong Lee is a Ph.D. candidate in tourism and hotel management from Youngsan University. She lives in Grindelwald, Switzerland, where she runs a Swiss Mountain lodge. She has a master's in culture and communication from University of Sao Paulo, Brazil.
Know someone who would find this interesting? Share this article with them!
Images courtesy of KME 2020 and The Korean Culture and Tourism Institute
https://www.openaudience.com/wp-content/uploads/2022/09/616e944589556802c81c81db_KME-2020_blog.jpg
448
673
Contact
https://www.openaudience.com/wp-content/uploads/2022/08/logo.svg
Contact
2021-10-19 08:30:00
2022-10-28 14:47:30
From Physical to Virtual: Trends for International Events in South Korea and China