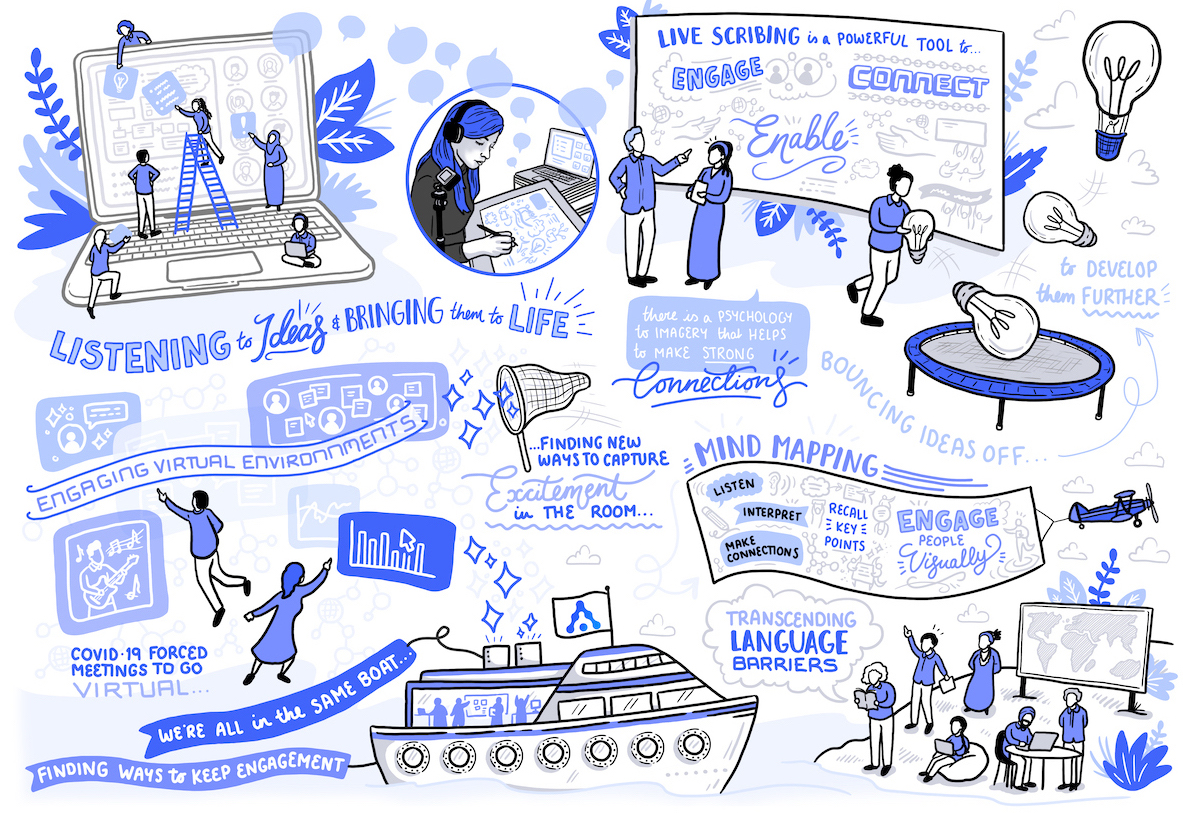 The Role of Illustration in Mapping and Visualising in Meetings
Live scribing has become an integral part of many events, conferences, workshops and presentations.
As illustrators or live scribes at meetings, our role is to listen to the ideas being explored and bring those to life through visualisation.
Live scribing is a powerful tool to engage an audience, encourage discussion, enable the audience to connect to key discussion points, and enable attendees to look back and reflect on the breadth and depth of the event. During the session it can be used to bounce off ideas and develop ideas further. There is a psychology to imagery that can help people to make a strong connection and engage around certain key points.
Since I began my career as a live scribe, I have travelled extensively around the world, attending conferences and workshops on every continent aside from Antarctica and across diverse industries. When Covid-19 forced meetings to go virtual, it meant an adjustment for everyone.
Surprisingly though, the switch to virtual hasn't affected how I work or the way my work is used as much as I had expected.
There might be some disconnect in terms of how to feel and respond to the excitement or general feeling in the room, but it is still there.
I'm still working each day in multiple industries with multiple teams across the world. The pandemic has meant we are all in the same boat trying to solve problems and create an engaging virtual environment, but the experience has been enjoyable, and much of that comes down to companies like Open Audience helping to overcome those challenges through the way they facilitate meetings.
As a result, you're still getting that excitement from the attendees as well as the pace and energy you might only expect to get in a physical meeting. From my perspective, that has allowed me to stay focussed on my role of mind mapping the sessions.
What is mind mapping?
For those unfamiliar with what a live scribe does, our role is to complete a mind map of the session and present that to the team running the session. I am given the agenda in advance so I know more or less what the discussion will focus on and I know how long the session will be, but other than that my role is to listen and visually summarise as the session unfolds.
Inevitably, during the discussion someone will make a point that generates excitement, and the conversation will keep linking back to that point, with various people offering different perspectives and inputs around that theme or idea.
I will hone-in on those discussion points and create a mind map of the different perspectives raised. In addition, I will use my own initiative to decide what's important in the discussion based on issues raised by the company running the session.
The key to good mind mapping is being a good listener and being able to translate the ideas raised into a visually exciting format that engages everyone at the meeting.
One of the interesting aspects of mind mapping is that it transcends language barriers.
Audience members for whom English is not their first language are able to make the connection with the discussion through what the live scribe captures in the mind maps.
As we continue to work and meet virtually, every one of us involved in building the connection needs to find ways to keep the audience engaged, help them gain value from the sessions and recall key points made during the discussion.
My role as a live scribe will always be to listen, interpret, make those connections and engage people visually. How the session is run and facilitated and the level of engagement by audience members is, therefore, crucial to building a mind map that reflects the company's objectives and the audience's reflections.
Amber Anderson is a multi-disciplined illustrator with more than seven years of experience working across both commercial and independent settings. Through live scribing, Amber helps to bring ideas to life at conferences, events and workshops globally and across almost every industry. In addition to live scribing, Amber has illustrated books, painted murals for public and commercial spaces, developed visuals for concepts, storyboarding, presentations, websites and video, and illustrated board games, water bottles and t-shirts for many well-known brands.
https://www.openaudience.com/wp-content/uploads/2022/09/609d5d0defb83825593b0bfb_Amber-blog-1-image-Role-of-illustration-website-2.jpeg
813
1183
Contact
https://www.openaudience.com/wp-content/uploads/2022/08/logo.svg
Contact
2021-05-13 08:30:00
2022-10-28 16:47:41
The Role of Illustration in Mapping and Visualising in Meetings